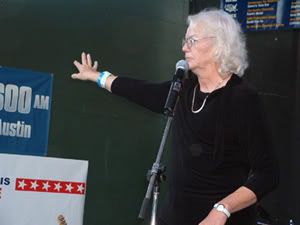 Photo we took of Molly when she spoke at DeanFest in 2005
I was saddened to learn that
Molly Ivins died today
. I'm sure that much will be written in tribute to her, but the best thing I can think to do right now is to post
her recent words
about Bush's proposed escalation in Iraq. May we all continue to fight the good fight in Molly's honor.
A surge is not acceptable to the people in this country -- we have voted overwhelmingly against this war in polls (about 80 percent of the public is against escalation, and a recent Military Times poll shows only 38 percent of active military want more troops sent) and at the polls. We know this is wrong. The people understand, the people have the right to make this decision, and the people have the obligation to make sure our will is implemented.

Congress must work for the people in the resolution of this fiasco. Ted Kennedy's proposal to control the money and tighten oversight is a welcome first step. And if Republicans want to continue to rubber-stamp this administration's idiotic "plans" and go against the will of the people, they should be thrown out as soon as possible, to join their recent colleagues.
...
We are the people who run this country. We are the deciders. And every single day, every single one of us needs to step outside and take some action to help stop this war. Raise hell. Think of something to make the ridiculous look ridiculous. Make our troops know we're for them and trying to get them out of there. Hit the streets to protest Bush's proposed surge. If you can, go to the peace march in Washington on January 27. We need people in the streets, banging pots and pans and demanding, "Stop it, now!"
Click here
for the rest.
Alternate link for comments