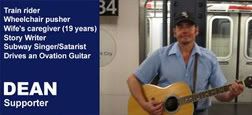 And he's got his GOP-kicking boots on...
Last Friday I was called back to the emergency room because of abnormalities in my follow up bloodwork. High potassium and low sodium levels had me weak and dizzy.
Finally I'm back at full strength. I'm home and ready to kick some serious Goper butt. If I had died in the hospital, I would have left this planet as the happiest man on Earth. Now I have a whole new life.
Gonna take a few hours to care for some unattended business I'll see y'all in a little while.
Love you all. Thanks for the prayers and support.
Subway Serenade
Alternate link for comments