Update: Plutonium Page has a birthday diary for Howard Dean at Daily Kos with a lot of great comments. You can find my diary here--I finally gave Flat Howard a birthday hat, and even some balloons!

Update: I also did a graphics tribute to Howard - Happy Birthday, Guv! - here.

On this special day, I'd like to take a moment to get in touch with my inner Harriet Miers:

Happy Birthday to the coolest DNC Chair ev-er!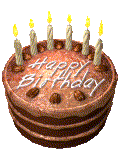 Hope everyone brought their air guitars--

You say it's your birthday
It's my birthday too--yeah
They say it's your birthday
We're gonna have a good time
I'm glad it's your birthday
Happy birthday to you.

The Beatles, "Birthday," The Beatles (The White Album)

In all seriousness, though, Howard does deserve great respect for what he has been able to accomplish through his presidential campaign, Democracy For America, and currently as chairman of the DNC. That's more than can ever be said about the current occupant of 1600 Pennsylvania Avenue.

Consider this a big birthday card for Howard and post your birthday message.






















Alternate link for comments