Thanks, Corinne, for pointing this one out to me...

Crossposted at My Left Wing and Daily Kos

Have you seen this new ad Ken Blackwell has put out, targeting African American voters? Pardon my French but, holy crap is it bad!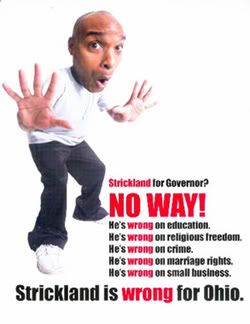 From Openers:

Black voters should be afraid of Democratic gubernatorial candidate Ted Strickland, who is white.


That's the implied message of a glossy new piece of campaign literature being distributed by Republican gubernatorial candidate Ken Blackwell, who is black.

It features an image of a black man, dressed in a T-shirt and baggy sweatpants, who looks as if he'd just seen a ghost, mouth agape and hands up. The image is also distorted, which makes the man's head as big as his torso. The headline reads: "Strickland for Governor? NO WAY!"
Geez, and here I was trying to resist the temptation to go negative. While I was messing with
bumper sticker ideas
recently, I was thinking of stuff like sing with bumper sticker ideas recently, I was thinking of stuff like "White supremacists for Blackwell". Or "Ken Blackwell: honorary rich white guy".
"Blackwell '06: this time, he'll rig his OWN election".

Maybe we need some ads showing African American voters standing on long lines to vote, courtesy of Ken Blackwell. Or the picture of him acting all chummy with this person

You know, the woman who showed this kind of compassion for Katrina evacuees:
"And so many of the people in the arena here, you know, were underprivileged anyway, so this--this [she chuckles slightly]is working very well for them."
Yeah, Ken Blackwell is all about looking out for his homies.

Just only when they're agreeing with him on "values" issues. When they're standing in line in the rain on election day--or concerned about cuts in funding for schools and various social programs--not so much.
But I do have his blatant play for the Black "values voters" (as well as Bush's veto of stem cell research) to thank for these new bumper stickers Demetrius just made.
And remember, you can donate to Ted Strickland's campaign here.
For more on Ohio Republicans behaving badly, check out the current posts at
Buckeye State Blog
. In addition to Ken Blackwell having the nerve to put out this piece of trash, we've also got Mike DeWine
using a doctored 9-11 photo in his campaign ad
.
Oops--sorry for starting the day with more outrage overload. Here, how about looking at this for a while (or any of the other adorable animals
here
) to balance that out a bit.
Alternate link for comments