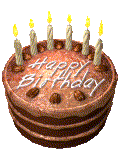 I wasn't aware that today was Maura's birthday until I saw it in the comments. But if someone is Howardly enough to
respectfully challenge Joementum at a public event
*, I think she deserves her own birthday thread.
Happy Birthday, Maura! You always do us proud--you go, girl!
Update:
jc posted a link to this
stroll down memory lane
for Maura.
*
If you didn't see the video of Maura asking Joe Lieberman why he was being a "fair weather Democrat", it is the first video on
this page
.
Alternate link for comments