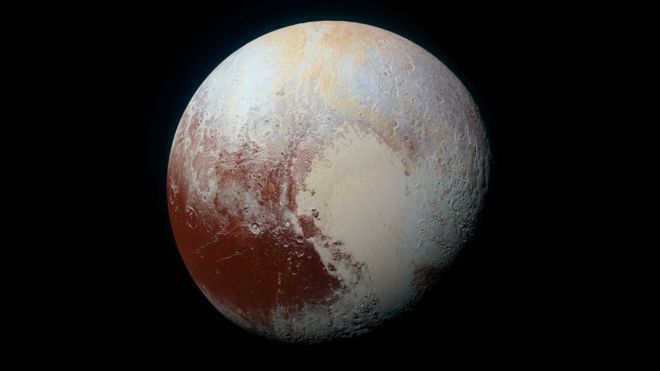 The BBC reports that data from NASA's New Horizons mission indicates the presence of a slushy ocean below part of Sputnik Planitia, the region on the dwarf planet's surface facing it's largest satellite, Charon, with which it is tidally locked. Two papers published this week in Nature discuss the formation of Sputnik Planitia, how a viscous, incredibly cold, hyper saline and ammonia enriched ocean developed beneath it, and why these events led to Pluto and Charon becoming tidally locked (always showing the same side to one another).
"If you were to draw a line from the centre of Pluto's moon Charon through Pluto, it would come out on the other side, almost right through Sputnik Planitia. That line is what we call the tidal axis" said James Keane, from the University of Arizona, co-author of one of a pair of papers published on the subject in Nature journal.

This is strongly suggestive of a particular evolutionary course for Pluto. The researchers contend that Sputnik Planitia formed somewhere else on Pluto and then dragged the entire dwarf planet over - by as much as 60 degrees - relative to its spin axis.
Link
Pluto 'has slushy ocean below surface