I just saw this on the web site of Integrity, and thought it was worth front-paging.


On May 22, the Archbishop of Canterbury announced (through a spokesperson) that the Rt. Rev. Gene Robinson, the openly gay Bishop of New Hampshire, would not be invited to attend the Lambeth Conference in the summer of 2008. Integrity responded with a strongly worded press release.

The Lambeth Conference is still over a year away. It may yet be possible to persuade Rowan Williams to change his mind about inviting Bishop Robinson to Lambeth. Integrity encourages all of its members and friends to write the Archbishop of Canterbury about this issue... (Click)
Susan Russell, President of Integrity, discussed the Lambeth invitations with Welton Gaddy on State of Belief last week.
Click here
for a transcript of that segment.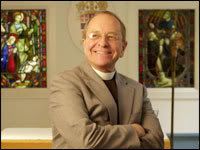 Haloscan comment thread